Whether it is a conference, webinar, workshops, internal meetings or community event, planning a virtual event can be difficult. Most of the time when planning a virtual event, event planners aren't sure where to start!
In this post, we will go through the differences between using Zoom (or any similar webcasting software) on its own and using Impact AV Solutions' virtual platform. Both to customize a fully produced and professional experience!
Impact AV Solutions Virtual Venues
With some events returning to partly in-person experiences, now is the best time to start looking for a platform that can host both in-person and hybrid experiences for your 2022 events!
With the Impact AV Solutions' virtual platform, you can keep your attendees engaged throughout your hybrid or virtual event with live polling, Q&A sessions and gamification, all on your event's custom virtual venue!
Below is one of the custom virtual lobbies we created for the Ontario Retirement Communities Association Conference (ORCACON). This was a Blue Mountain themed, three day conference of live sessions, networking, and community building.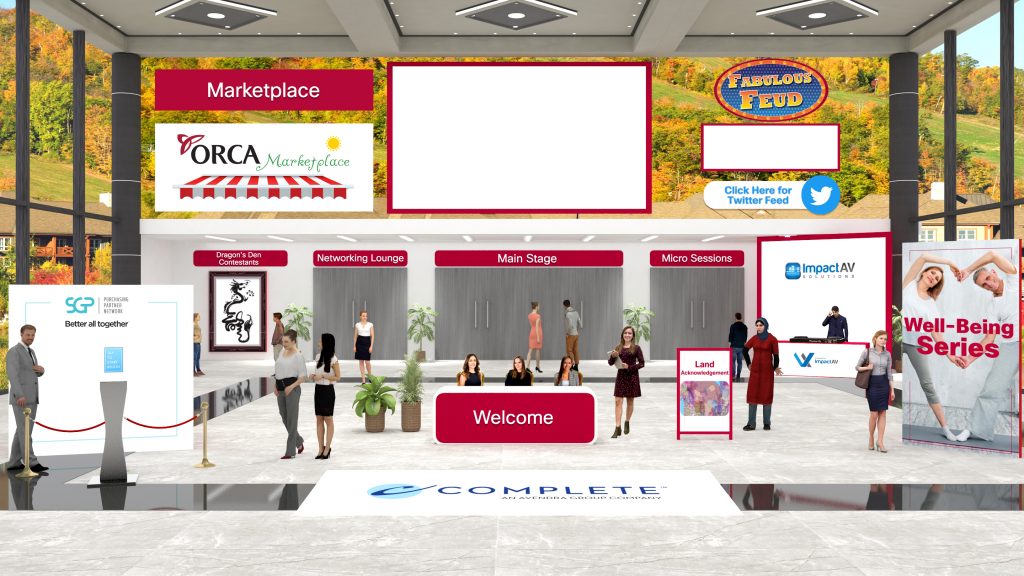 The Difference In Quality
There is a large difference in quality in a produced virtual event between a simple Zoom meeting versus the Impact AV Solutions virtual platform!
When guests log in to zoom, there is often several minutes of confusion as they attempt to connect their video and audio. At best, a member of your team can share their screen to add pre-show material to the meeting, but this is a messy solution that is jarring and often pulls focus from the presentation.

Let's compare this to an Impact AV Solutions virtual event. We will have a live view spotlighted in the zoom meeting with pre-show material playing content at a time of your choosing. This makes a cleaner and more engaging presentation.
Let's look at the differences between how the actual show will look.
First, let's look at Zoom. The host will have to unshare their screen to remove the pre-show material and then spotlight themselves. This results in a messy and unprofessional field to the presentation as well as breaking engagement and drawing focus away from where you want it.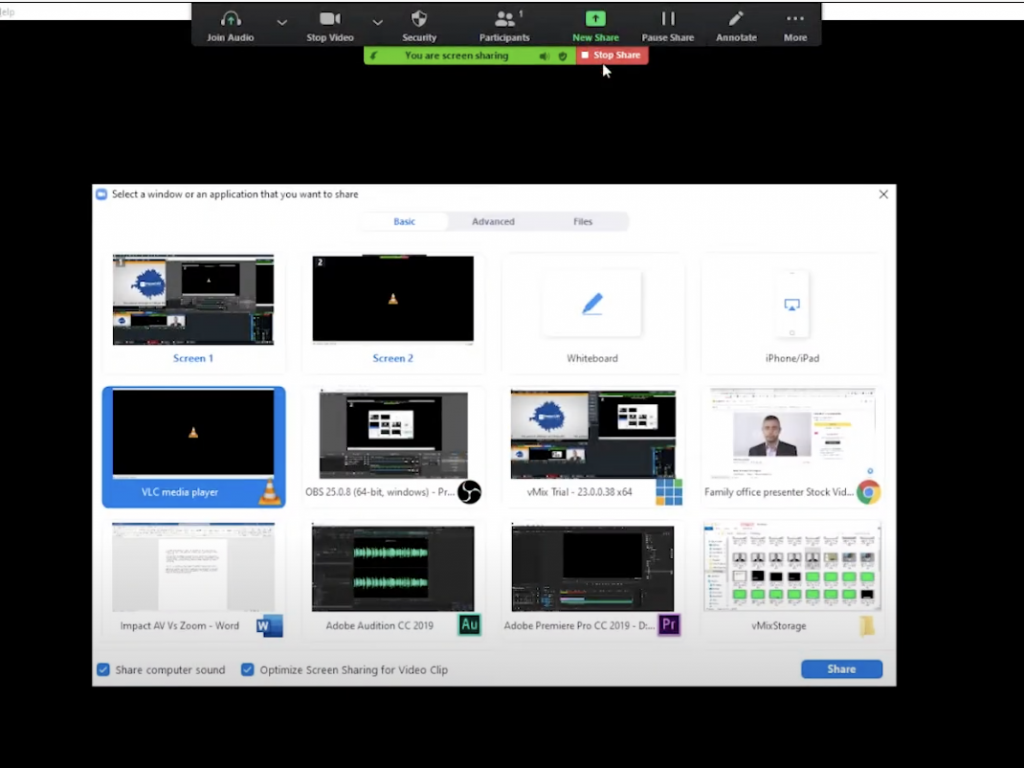 Let's see how this compares to Impact AV Solutions' virtual event. Each event will have custom premade scenes with smooth transitions and an added level of production value, like custom-built titles that will appear below the host, making crystal clear who is presenting or hosting.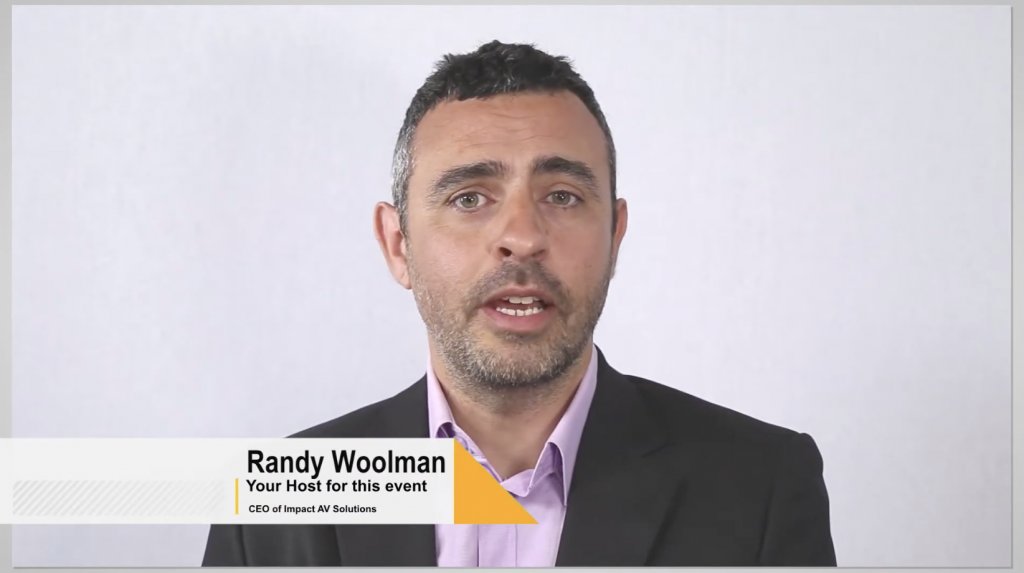 Presentations With A Standard Zoom Meeting
Let's compare the actual presentation or keynote with a standard Zoom meeting. The host will need to have their spotlight cancelled and then the presenter spotlighted. Once again, we have a messy and unprofessional-looking transition and scene.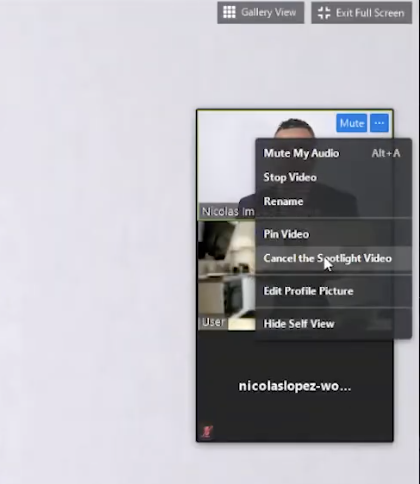 Once more let's compare this to an Impact AV Solutions virtual event. We can offer a seamless transition, branded title and a custom-built scene. This one below was built with some of the custom features available. Below is the speaker's name, a rolling ticker with a message as well as a QR code that can be scanned to direct audience traffic via their smartphones.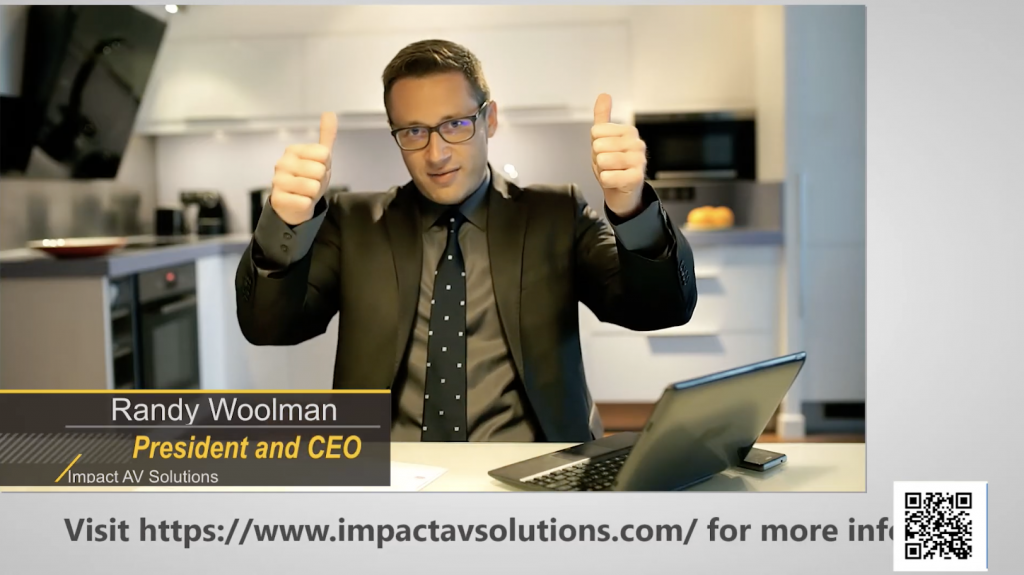 Presentation Slides And Videos
Looking at Zoom, we can once again see that the presenter will have to click on the various Zoom controls and wander to find the correct screen they need to choose for their presentation. They also have to remember to share slide videos with sound. This further adds to the messy and unprofessional feel that will distract from the audience engagement.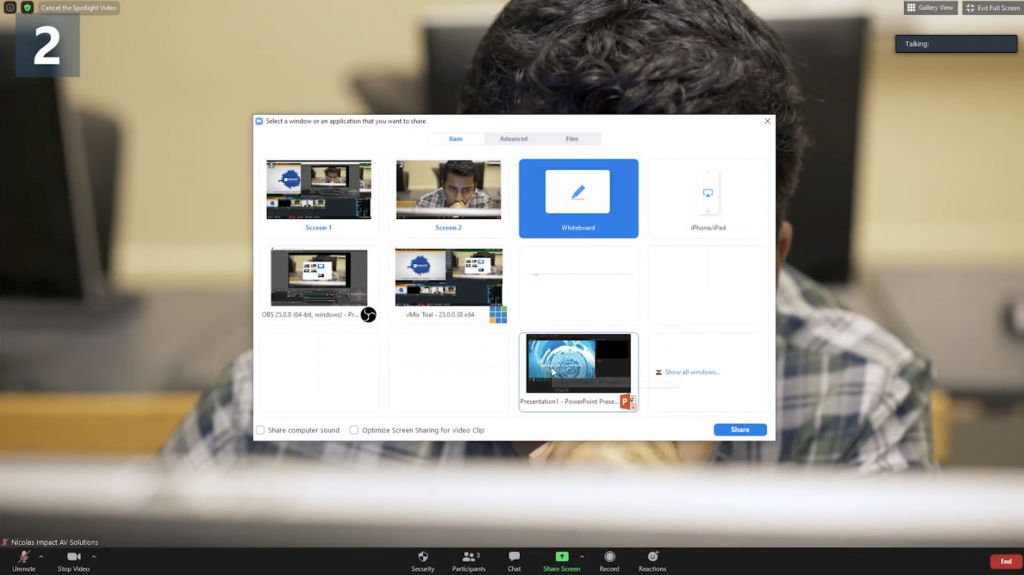 With Impact AV Solutions, we can see below the seamless transition and a customizable scene. We control all of the technical aspects of your virtual event, allowing the presenter to focus on what matters most, the presentation!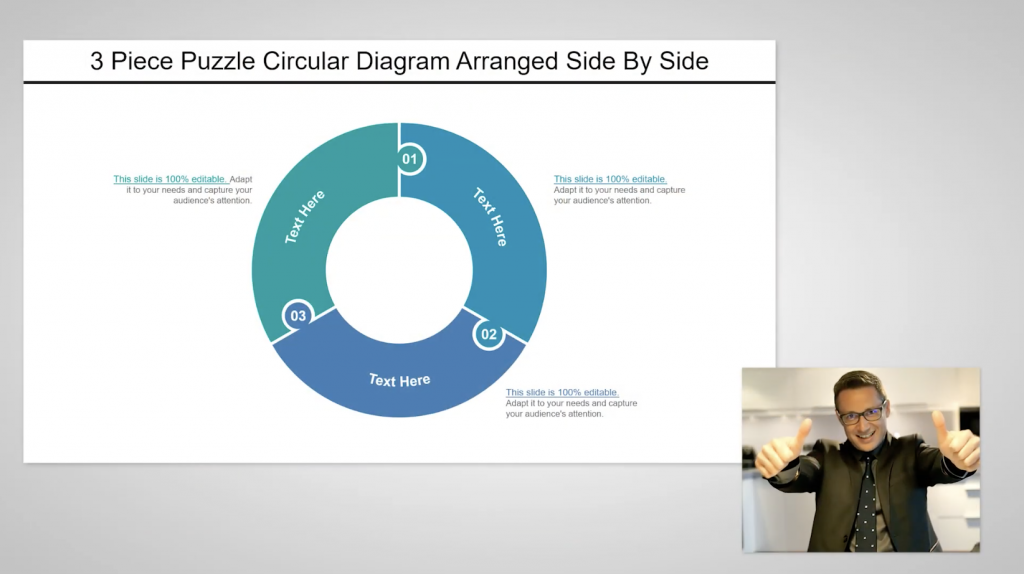 We also can set your video or slides as a full screen to help with small text and images on the presentation.
What about Q&A Or Panel Discussions?
In a typical Zoom scenario, it is very difficult to create a visually pleasing and functional Q&A session. There isn't a great way to have the host and presenter on-screen at the same time. It can also be difficult for the presenter and/or host to manage these aspects while trying to focus on questions.
The whole process is stressful and messy. This applies also to panel discussions, which simply cannot be done this way cleanly and engagingly.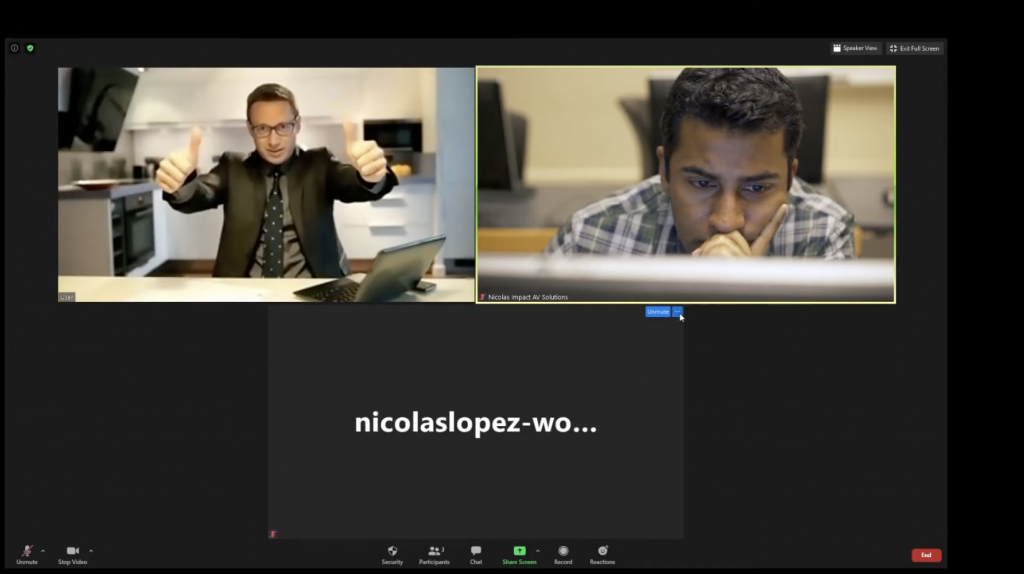 With Impact AV Solutions handling your event, this problem is solved! We can create a seamless transition to host and presenter allowing the host to relay the questions they receive from the audience, without having to reveal the back end controls. This same feature can be expanded to create fully customizable scenes for panel discussions.
We can see a simple four-person panel setup, or this larger panel of six, with a moderator. Whatever your needs, we can set the stage and create the scene. This adds a professional broadcast quality to your presentations that will impress your audience and keep them focused.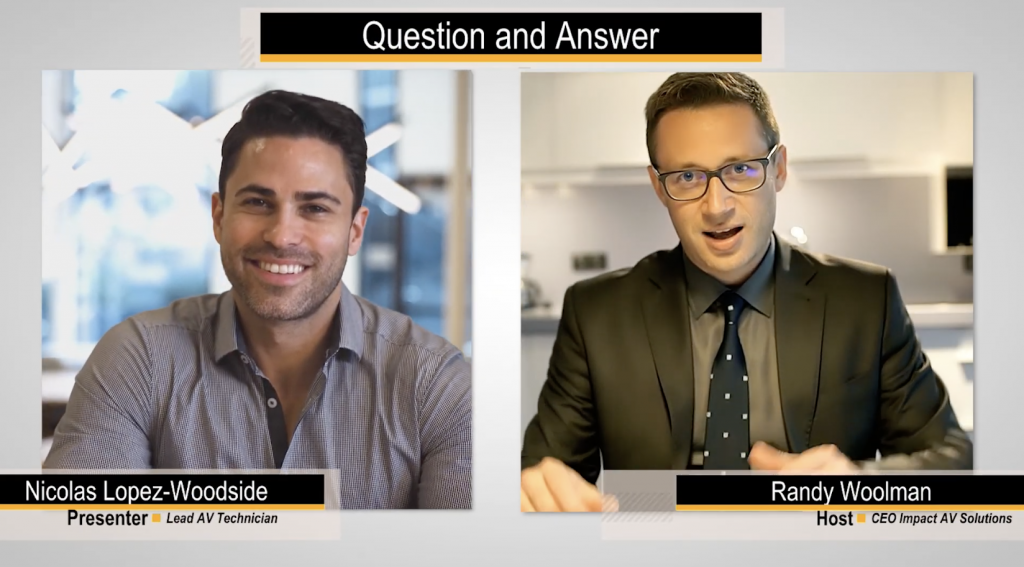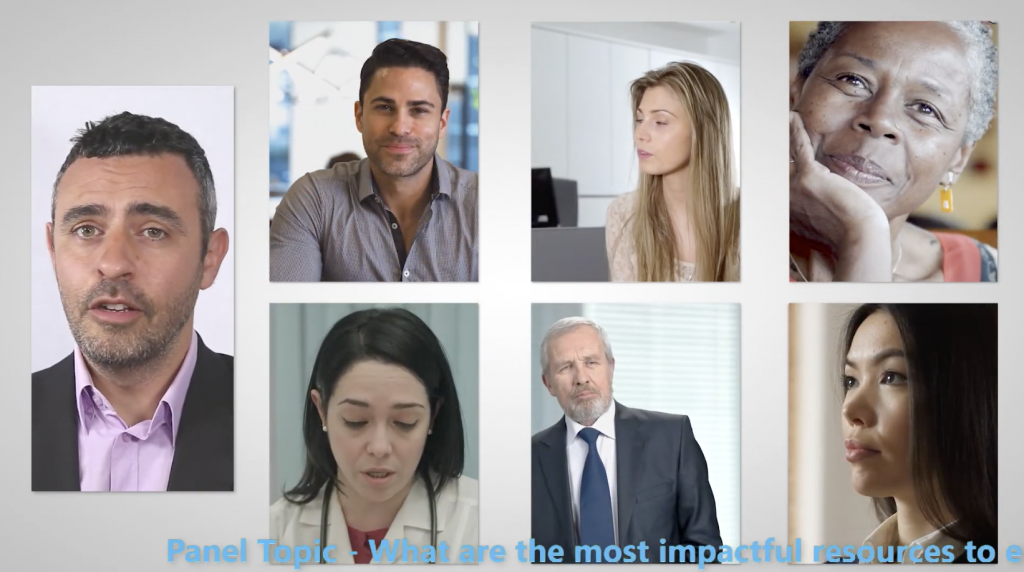 After Your Event
When your event is over, instead of simply ending the meeting by unceremoniously kicking out your guests, utilize Impact AV Solutions' virtual platform capabilities to leave your guests with post-show materials. Like a post-show thank you video to direct audience traffic, thank your sponsors, or simply show appreciation to your audience!